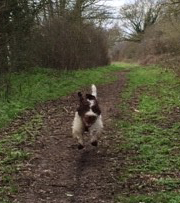 Distraction and morale officer (Job share with Beans)
Hello I'm Sprocket the pocket rocket, or at least that's what my owner calls me, amongst other things.  I'm only a puppy so I only work part-time but I like coming into the Zing office.
I get to rummage under desks in waste bins, sit on the sofa, look out of the window and generally distract everyone with my antics. My favourite task is paper shredding, I don't even need the machine!
When I'm not working I like to eat, sleep, run and jump.  As you can see from my picture, I also like to 'fly!' but haven't yet managed to stay in the air long enough to catch a bird.  I love birds.